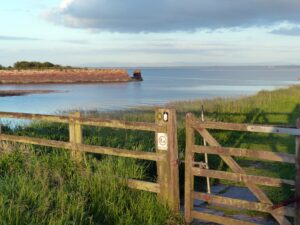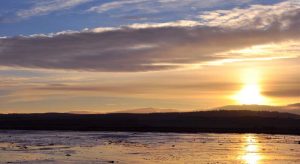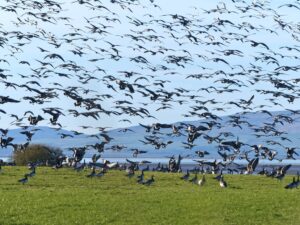 A Secret Solway short tour - 3 hours
Leaving from Carlisle this tour visits a medieval fortified church, rare salt marsh habitats and the remains of a harbour which was once the main port for the city of Carlisle.  The tour involves a series of short walks to explore the various heritage sites.
Secret Solway summer evening tour - 3 hours
The evening light on the Solway estuary has a magical quality. An evening tour of the Cumbrian Solway coast with a local guide. Take in dramatic seascapes and views of the Scottish and Cumbrian hills. See the historic routes once used by armies, pilgrims, drovers and many more to cross the dangerous sands at low tide.  Watch the light change on the Solway waters as the sun sets.  Involves short walks to view points and different natural habitats.  This tour leaves from Carlisle.
Secret Solway winter wonders tour - 3 hours
The Solway estuary has international significance for migrating birds particularly in the winter months when the Whooper swans and many thousands of Barnacle geese arrive. The winter light, when the sun is low in the sky, also adds a spectacular silvery quality to the Solway waters.  Leaving from Carlisle, this tour visits different wildlife sites along the Cumbrian Solway coast.  Binoculars and warm clothes recommended. Only available during the winter months.